News
---
April 1, 2022: In the week of March 21, 2022, Asst. Prof. Branimir Škugor was visiting the research group of Prof. Theo Hofman at Technical University of Eindhoven, and presented the research results of the project ACHIEVE.
---
March 21, 2022: In January 2022, Jakov Topić defended his doctoral thesis entitled "Modelling of Driving Cycles Including Time-varying Features of Road Slope, Vehicle Mass and Traffic Congestion", (in Croatian).
---
May 21, 2021: Asst. Prof. Branimir Škugor has been awarded for the best paper at the IEEE-sponsored International Conference on Smart Systems and Technologies 2020 (SST 2020) held in Osijek, Croatia, 14-16th of October 2020.
---
January 4, 2021: Prof. Joško Deur participated in the Croatian radio (HR1) broadcast "Drag mi je Platon" on December 12, 2020, and spoke about Electromobility and autonomous vehicles, as a follow-up on his previous participation in the round table of Croatian Academy of Sciences and Arts. The broadcast (in Croatian) can be listened using this link.
---
January 4, 2021: The Croatian Academy of Sciences and Arts organized a round table on the topic of Electromobility and Autonomous Vehicles, November 6, 2020. Prof. Joško Deur gave a presentation entitled "On Control of Electric Vehicles, E-mobility systems, and Autonomous Vehicles".
---
February 10, 2020: Since November 2019, Prof. Joško Deur has been a member of Editoral Board of World Electric Vehicle Journal.
---
January 24, 2020: A postdoct position recruitment competition for the ACHIEVE project has been announced and is open until February 24, 2020. The details of the competition are available on the Faculty's website, in the Official Gazette ("Narodne novine"), and on the EURAXESS web portal.
---
November 29, 2019: The project team gave a presentation related to driving cycle synthesis at the International Workshop on Advanced Cooperative Systems organized within the CRE-DATACROSS project.
---
November 14, 2019: The research team member, Mag. Ing. Jure Soldo, presented his poster on the topic of ACHIEVE project, as part of the Project Day Event organized within 100-years celebration of the Faculty of Mechanical Engineering and Naval Architecture.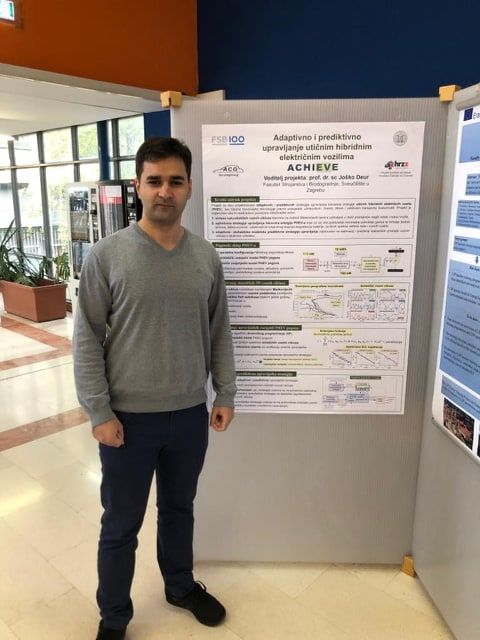 ---
November 6, 2019: The project leader, Prof. Joško Deur, talked about the project ACHIEVE (and electric vehicles in general) in the Radio Sljeme programme "Iz svijeta znanosti".
---
October 1, 2019: Mag. Ing. Mislav Hihlik joined the project team as a Ph.D. student supported through the CSF programme Young Researchers' Career Development Project – Training of New Doctoral Students.
---
December 22, 2018: Prof. Joško Deur gave a public introductory lecture through which he presented the project scope, main goals, expected contributions, work plan and project team.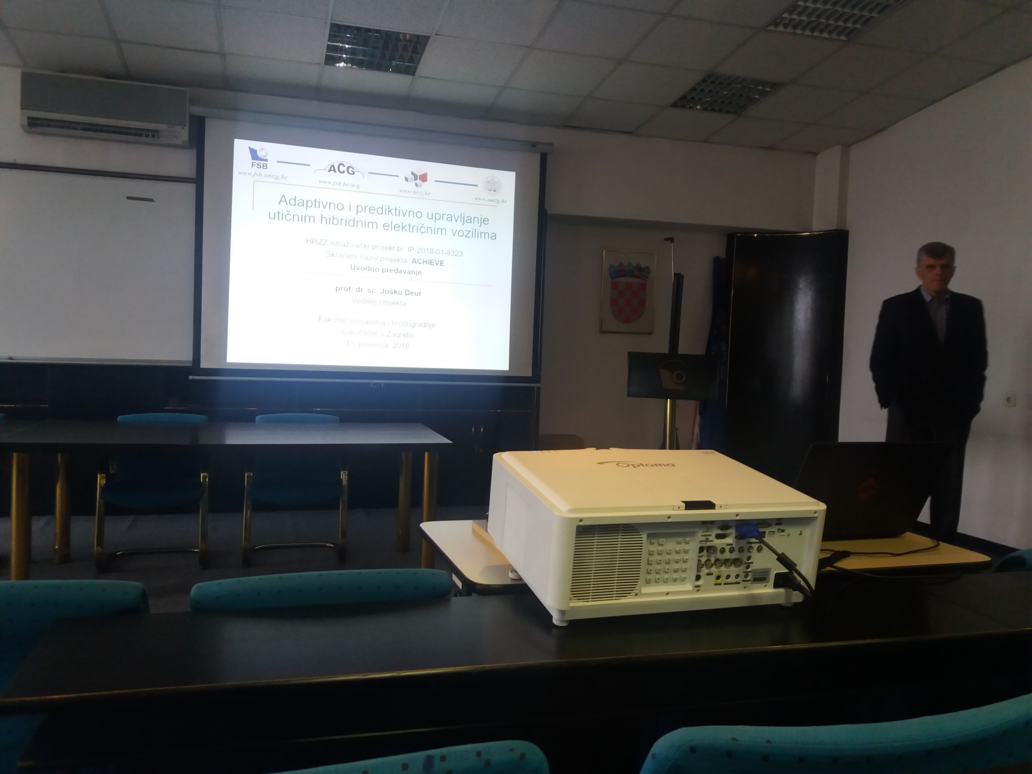 ---
October 15, 2018: Project start date.
---